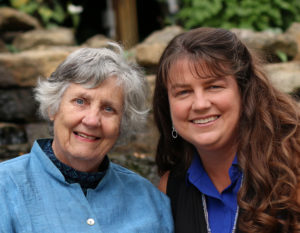 Peggy and Cheryl
About the Author
Peggy Noll has loved books ever since her big sister taught her to read before she started kindergarten. She studied English Literature for a Master's Degree and taught Children's Literature at a community college. Her special joy, however, was reading to their five children and later seven grandchildren. After their children were grown, Peggy and her husband Steve, an Anglican priest and biblical scholar, became missionaries in Africa. During their ten years in Uganda, Peggy co-founded a children's library on the campus of Uganda Christian University, which has continued to thrive since they returned to the U.S. in 2010. It is no surprise that with this background and years of publishing occasional articles and stories as a freelance writer, she started writing alphabetical verses featuring animals in the Bible.
About the Illustrator
Cheryl DeGraaf began drawing and painting at an early age. She has painted murals on church nurseries, pediatrician offices and many play rooms to delight and amuse children. A graduate of Carnegie Mellon School of Design, she and her husband John have 9 children. She enjoys homeschooling her children, and leading a homeschool co-op where she teaches art weekly. Although she makes her home north of Pittsburgh, she regularly takes trips out west with her family to explore the Rockies from Arizona to Alberta.